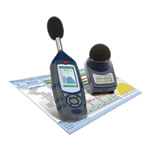 Insight Software Support
Download measurements and present reports for CEL62x and CEL63x sound level meters and dBadge noise dosimeters.
Software
Insight
Download noise measurements
Produce noise reports
dBadge dosimeter and CEL62x/CEL63x meters
Get Insight
Frequently Asked Questions
Software Patches
There is sometimes an error that occurs with Windows 10 updates and Insight and it can be fixed using a registry patch.
Instructions are to stop Insight, double click the file (patch) to invoke the registry entry, and then restart Insight.
You should be able to download a registry patch from the following link: