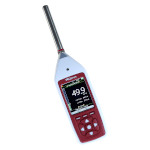 Optimus+ Sound Level Meter Support
A range of sound level meters for occupational and environmental noise surveys.
Some models have data logging, octave and 1/3 octave band filters. All are available as Type 1 or 2 / Class 1 or 2.
Includes model codes CR15x Optimus Yellow, CR16x Optimus Red and CR17x Optimus Green.
Product Pages
Software
NoiseTools
Configure Optimus Sound Level Meter
Download noise measurements
Produce noise reports
Free Windows software
Get NoiseTools
dBActive
Bluetooth Link to Optimus+
Start & Stop Measurements
Start & Pause Audio Recordings
Share data
Download from Google Play or App Store