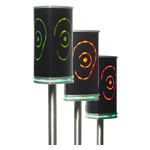 NoiseGuide Noise Warning Sign Support
The NoiseGuide is a desk, partition or wall mounted noise monitoring and logging device that gives an immediate warning when people are being too loud. They are designed for use in offices, libraries, school rooms, hospitals and other environments where staff or visitors need to be reminded to keep quiet.
These are data logging units and the software for downloading and reporting is included.
Product Pages
Software
NoiseGuide Software
Configure the NoiseGuide noise thresholds
Download noise measurements
Present noise graphs
Get NoiseGuide Software