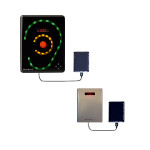 LNT-320, LNT-EAR, LNT-IND Support
LiveNoise networked noise monitors for indoor noise measurement. These devices connect to a SoundEar noise warning sign or noise processor, which is included in the package.
Frequently Asked Questions
Networking and Firewall Problems
The LNT-SE communicates with the LiveNoise software over your local area network. Firewalls are essential, but tend to restrict the ability for devices to connect to each other unless permission is given. Here are some things to check if your noise monitor is failing to communicate with the Supervisor software.
The noise monitor needs to be told the name and password for the network it is connecting to. You do this using the Supervisor software, which writes the WiFi settings to a memory. This memory stick is then inserted into the noise monitor for a few seconds while it reads the settings. Please see the user manual for more information. Any mistakes in the name or password (they are case sensitive) will result in failure to connect.
The Supervisor software can search your local network for any new noise monitors. Select the menu option System | Device Setup | Find New Monitors. Otherwise, you can enter the IP address of the noise monitor manually and request a connection.
The noise monitor communicates with the Supervisor software on ports 53941 and 53942. Your Windows Firewall or any other firewall may be blocking this communication.
The IP address for the noise monitor does not need to be fixed. However, you should fix the IP address on your local network of the computer running the Supervisor software. All communication is started by the noise monitoring connecting to the Supervisor software. It is done this way so that you only need to fix the one IP address.
Report Generation
While the Supervisor software shows live noise levels and downloads the measurements, the Reporter software creates the long term reports.
If the Supervisor software is showing the noise monitors, connecting and downloading measurements, but the Reporter software is not showing the list of noise monitors then it is probably an issue with folder permissions.
In order to get a list of the noise monitors, the Reporter software needs access list the contents of the LiveNoise data folder. This can be fixed as follows, but you may need administrator rights to do this:
Using Windows Explorer (not Internet Explorer), go to the C:\ProgramData\NoiseMeters\LiveNoise-SV folder
Right-click on the data directory and select the Properties option
Click the [Advanced] button
Ensure the Allow files in this folder to have contents indexed... is ticked
If this option is not ticked then Reporter will not be able to list the noise monitors. If this option is off then please turn it on. Once you press OK you will be asked if you want this applied to sub-folders. Please answer yes.